Timber Cares: Free Toothache Clinic in Portland
Next Clinic is on Feb 20th!
Registration is now open. Sign up for your pre-screening now.
What free dental services do we offer at our toothache clinic?
Tooth extractions &  Simple dental fillings.
For the time being, we're doing these a little differently because of COVID-19.
It's still first come, first-served and anyone is welcome, but this time there will be no crowds, no lines, no waiting rooms. We'll do a pre-screening with you a few days before your appointment and then you'll arrive at your scheduled time on the day of the free clinic.
Learn more about our COVID-19 precautions.
Step 1: Pre-Screening before the clinic *
Book Your Virtual Pre-Screening with us (dates will be announced soon). We'll do a quick ZOOM call to learn more about you before your appointment.
*Pre-screening may be available in-person, call or chat with us for details.
Step 2: Timber Cares Clinic Appointment  
During your pre-screening, you'll meet with one of our schedulers to book your appointment on the day of the clinic.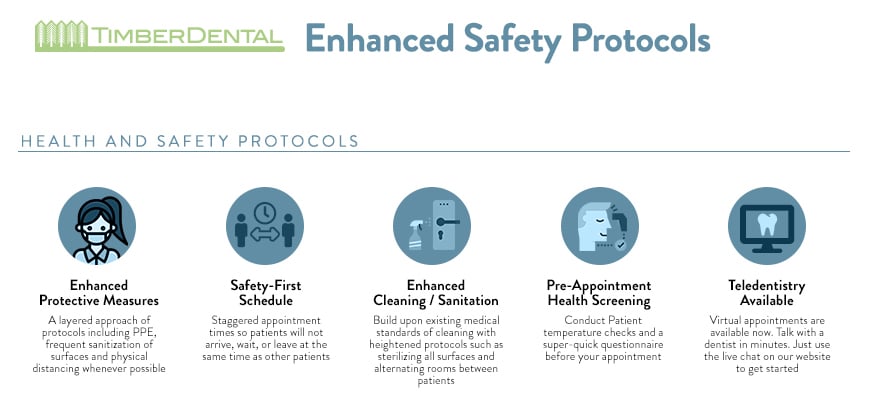 Once a quarter, Timber Dental opens our doors to the community for a full day to provide free, essential dental care to Portland families. There's no income requirement: anyone is welcome on a first-come, first-serve basis.
We keep people smiling by being the world's most patient-centric, community focused, and relentlessly positive dental practice.
What free dental services do we offer at our toothache clinic?
Tooth extractions
Simple dental fillings
Anyone in pain qualifies! If you have any questions about this clinic, please feel free to contact our office and we will be happy to assist you.
Timber Cares Mailing List:
Be First To Know About the Next Timber Cares Clinic!
Thank you for your interest in our Timber Cares Clinic. We are honored and humbled to provide care to those in need; this is one of our favorite days of the year!
Timber Cares Video
Below you can watch a video about Timber Cares and how we're honoring our commitment to serving our community. Timber Cares is our unique brand of philanthropy and community work.